MAKE-AHEAD: CHRISTMAS MORNING BREAKFAST BAKE // Featuring: The All American Diner Breakfast Bake with Crispy Hash Browns and Bacon.
Posted on December 13, 2016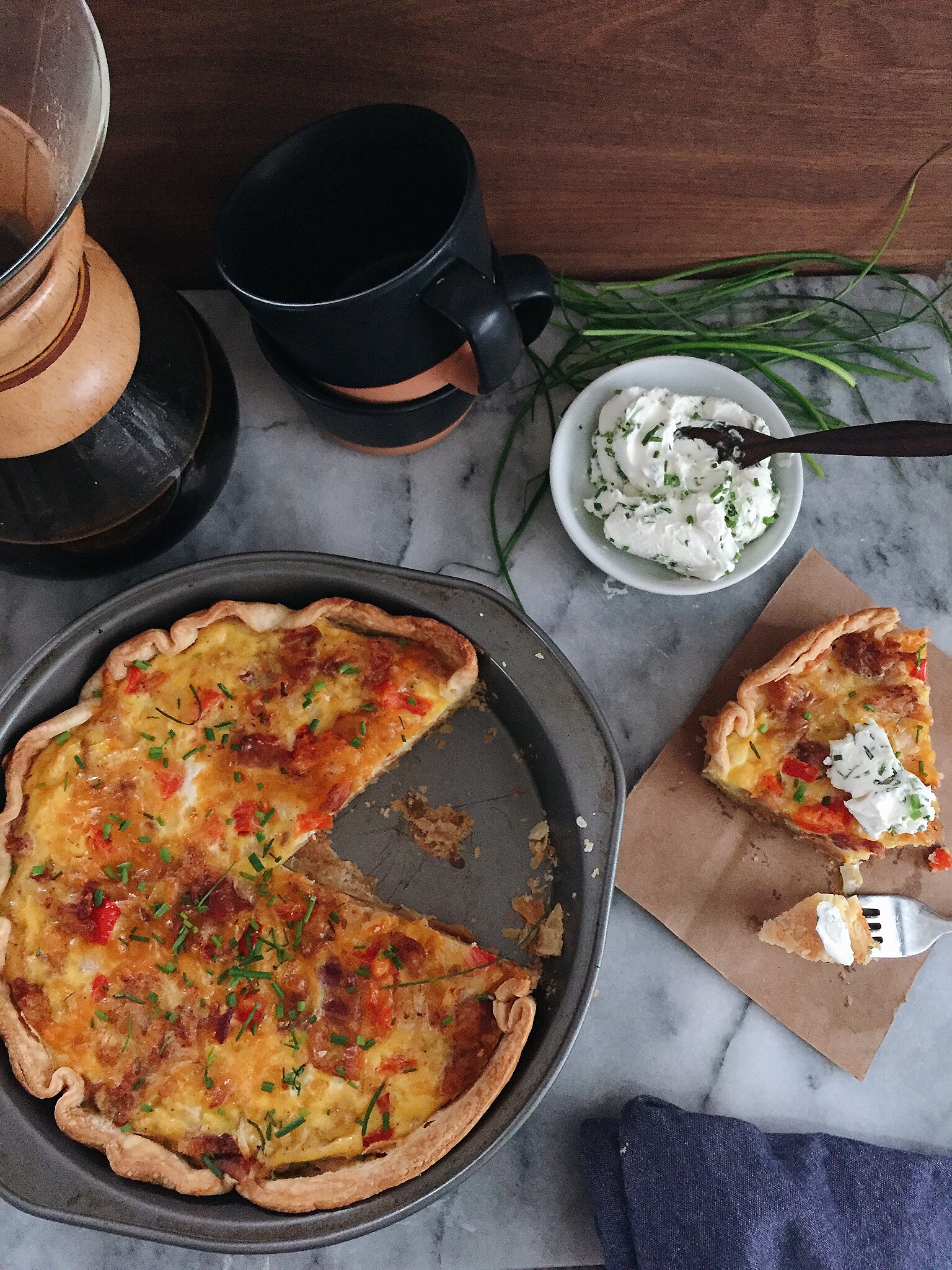 Who on God's GREEN EARTH doesn't LOVE Christmas morning?! I for one, am a huge fan and this recipe that I've been cranking out for years makes the morning EVEN more enjoyable… mostly because it allows you to be L A Z Y Christmas morning but still feed a crowd! Customize your own flavors, make a day or two ahead, and heat up (at 300F) just 15 minutes before you want to eat! Ten bucks says this becomes your new tradition.

If you have followed my blog for a while you may recognize this from a previous recipe I did a little while back and if you haven't seen it click here to see a few other flavor options I have: MAKE-AHEAD: CHRISTMAS MORNING BREAKFAST BAKE (Featured Version: Smoked Salmon, Fresno Chili, & Herbed Cream Cheese).

But for now, I present to you my special recipe just for the guys over at Master of One Podcast and a special HOLIDAY MEAL TIME WITH FRIENDS collaboration that they put together with the fine folks at Salt + Cinnamon and Old Town Roasting! The All American Diner Breakfast Bake with Crispy Hash Browns and Bacon.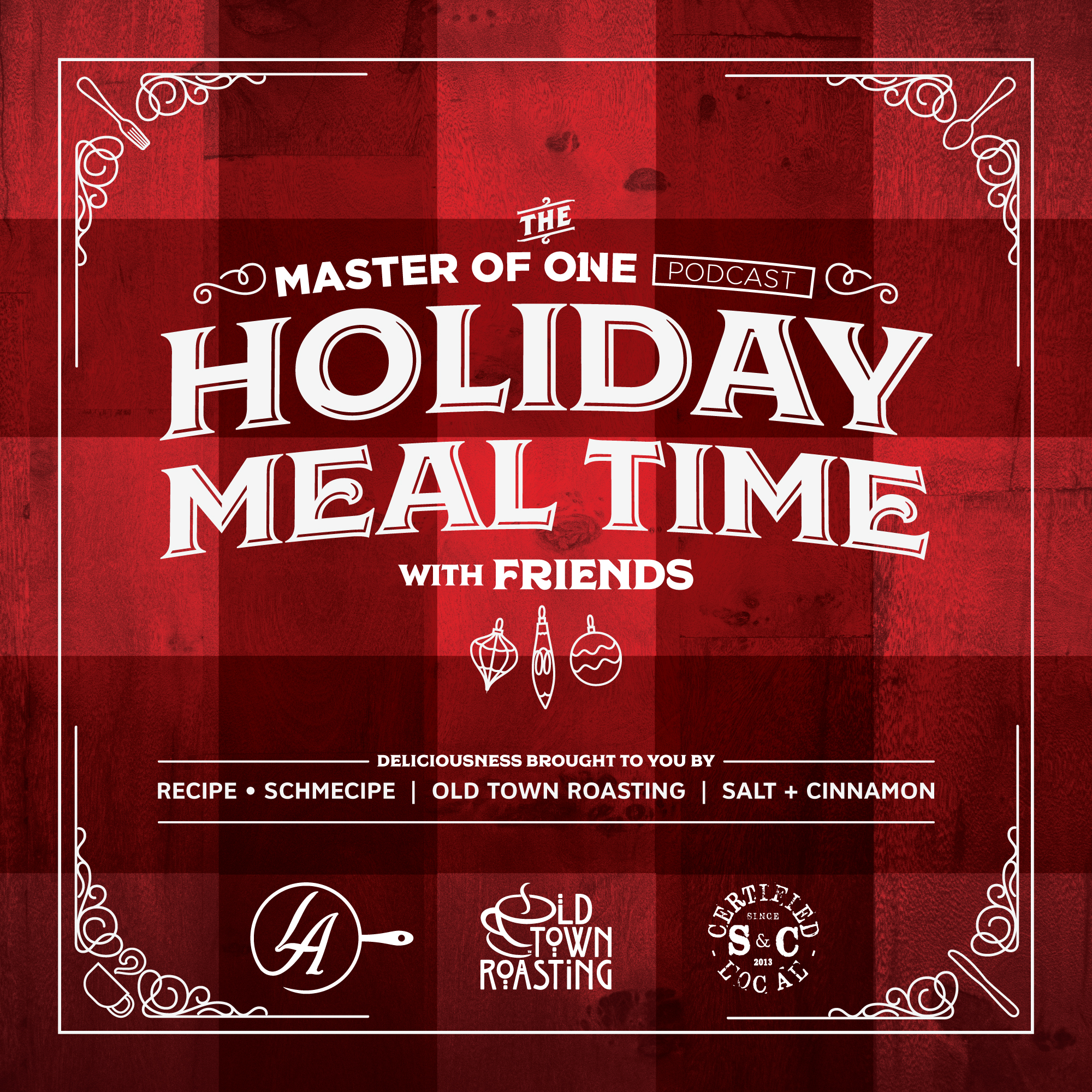 You will need:
1 store-bought or homemade raw pie crust
8 strips of bacon
2 1/2 cups pre grated potato hash browns (I find these by the eggs in the refrigerated section)
¼ medium sized onion (chopped)
1/4 red bell pepper (finely chopped)
1 cup grated sharp cheddar cheese
6 eggs
1/3 cup half and half or cream
1 block of cream cheese (room temp/softened)
1/4 cup chopped fresh chives
Salt
Pepper

Serves 4-6 (depending on how hungry your crowd is… most store bought raw pie crusts come as two so I always just make at least two breakfast bakes. If it't the WHOLE crew I do 4)

INSTRUCTIONS
Preheat your oven to 375F. Roll out your pie dough and place in a nine inch pie pan to form your crust, crimping the dough at the top. Place foil or wax paper over your crust and line with pie weights, dried beans, or (in my case) coins?! (Yep works great) and bake until edges begin to crisp a bit, about 20 min. Remove from oven and set aside to cool.

Make your filing.

In a medium sauté pan, crisp up your bacon in batches and set aside on paper towel to soak up some of the grease (once cooled- chop your bacon). LEAVING your bacon grease in the pan; add your hash browns. Follow the instructions to get them crisp (basically- heat the bacon grease on medium-high and spread potatoes in an even layer, let them sit without stirring to let them crisp up and flip). Once crisp, set aside as well on some paper towel.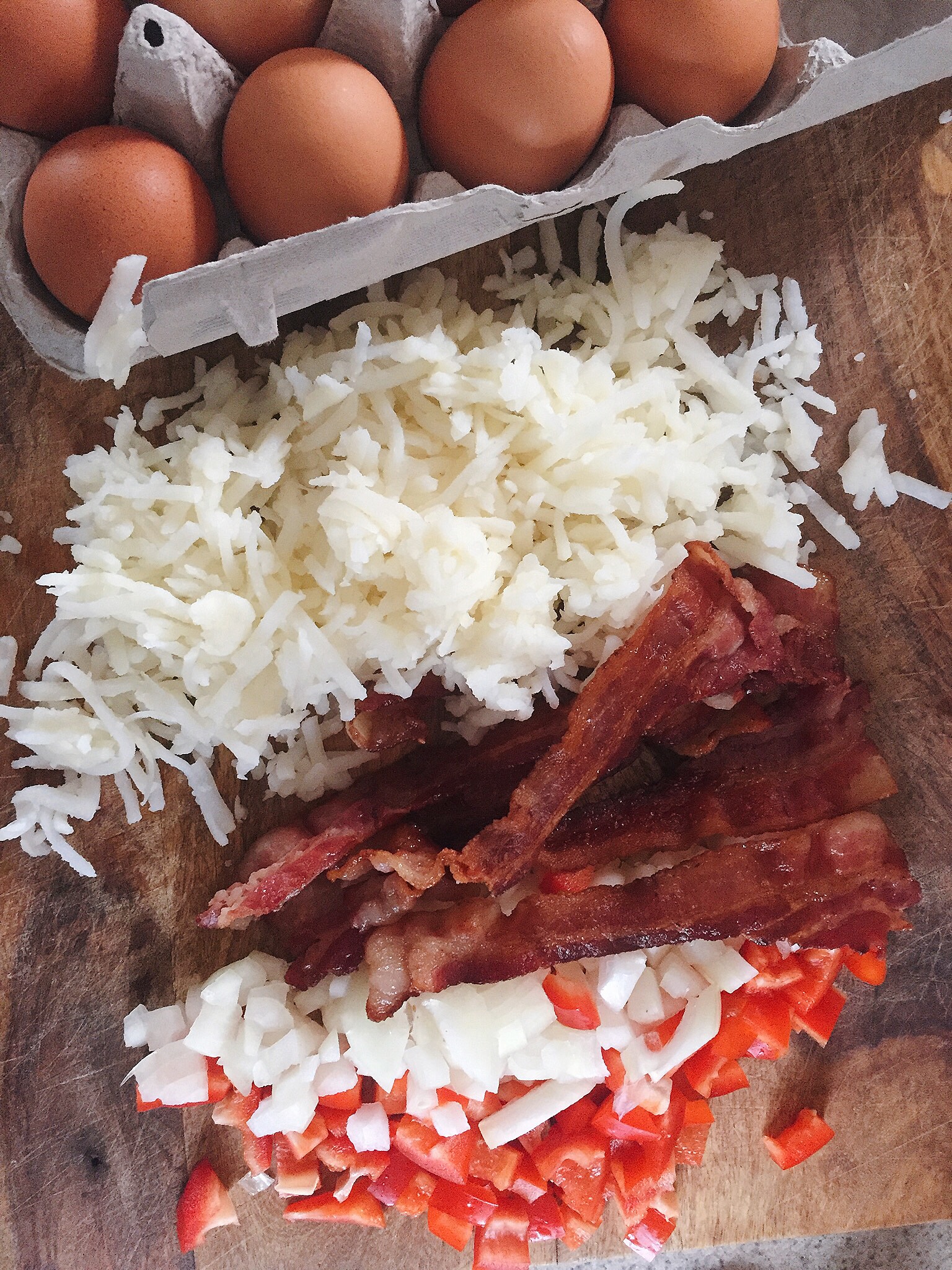 Finish your filling by quickly cooking your onions and bell pepper until translucent (about 5-7 min).

Fill your crust.

I like to do this part in layers so you can really taste the ingredients. Start with a layer of your crispy hash browns and spread evenly over your cooled pie crust. Adding a good sprinkle of cheddar between each layer, follow with the chopped bacon, then your peppers and onions.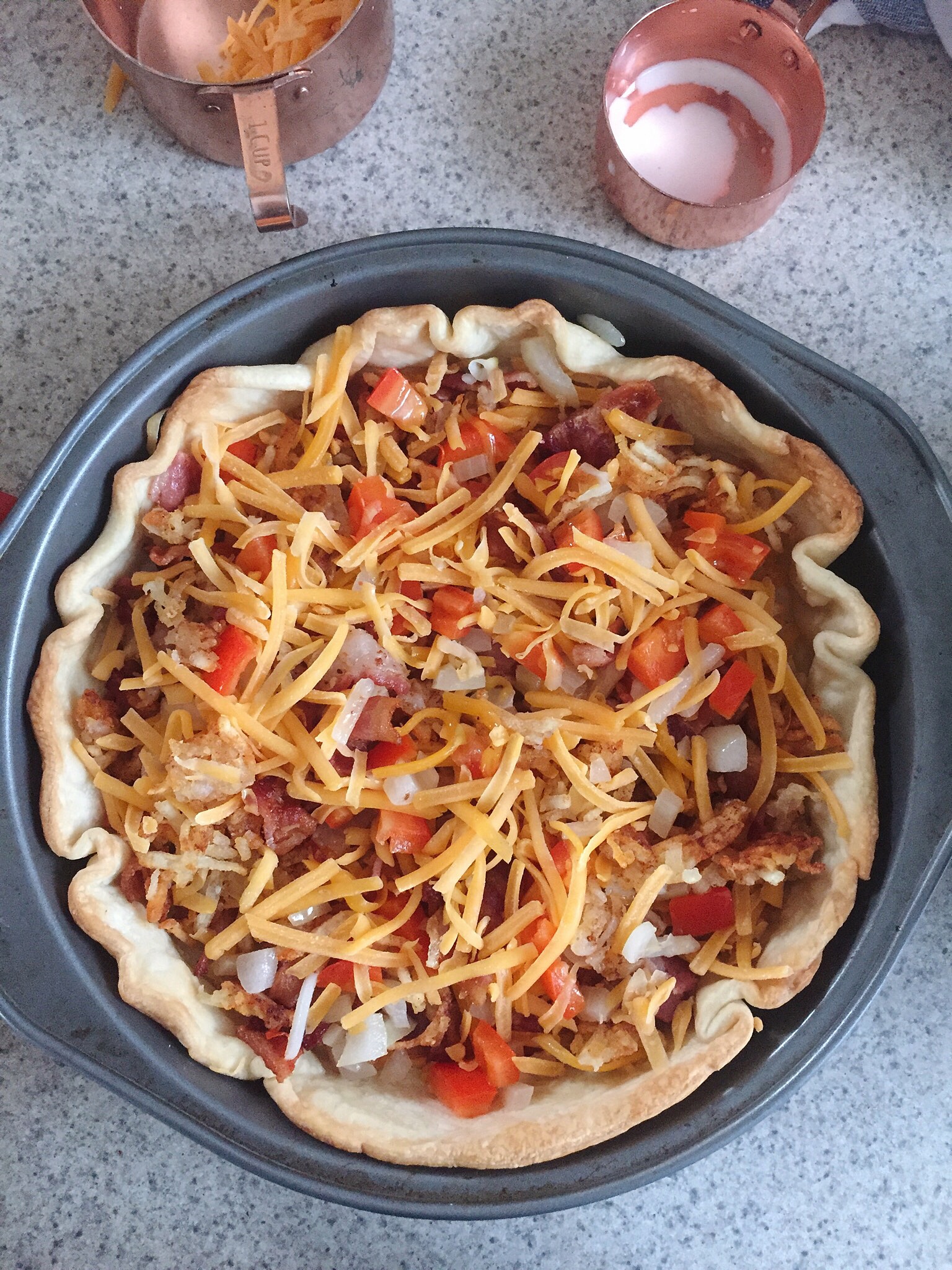 In a bowl, combine eggs, cream and a little salt and pepper; whisk until smooth and eggs are beaten. Pour over filling.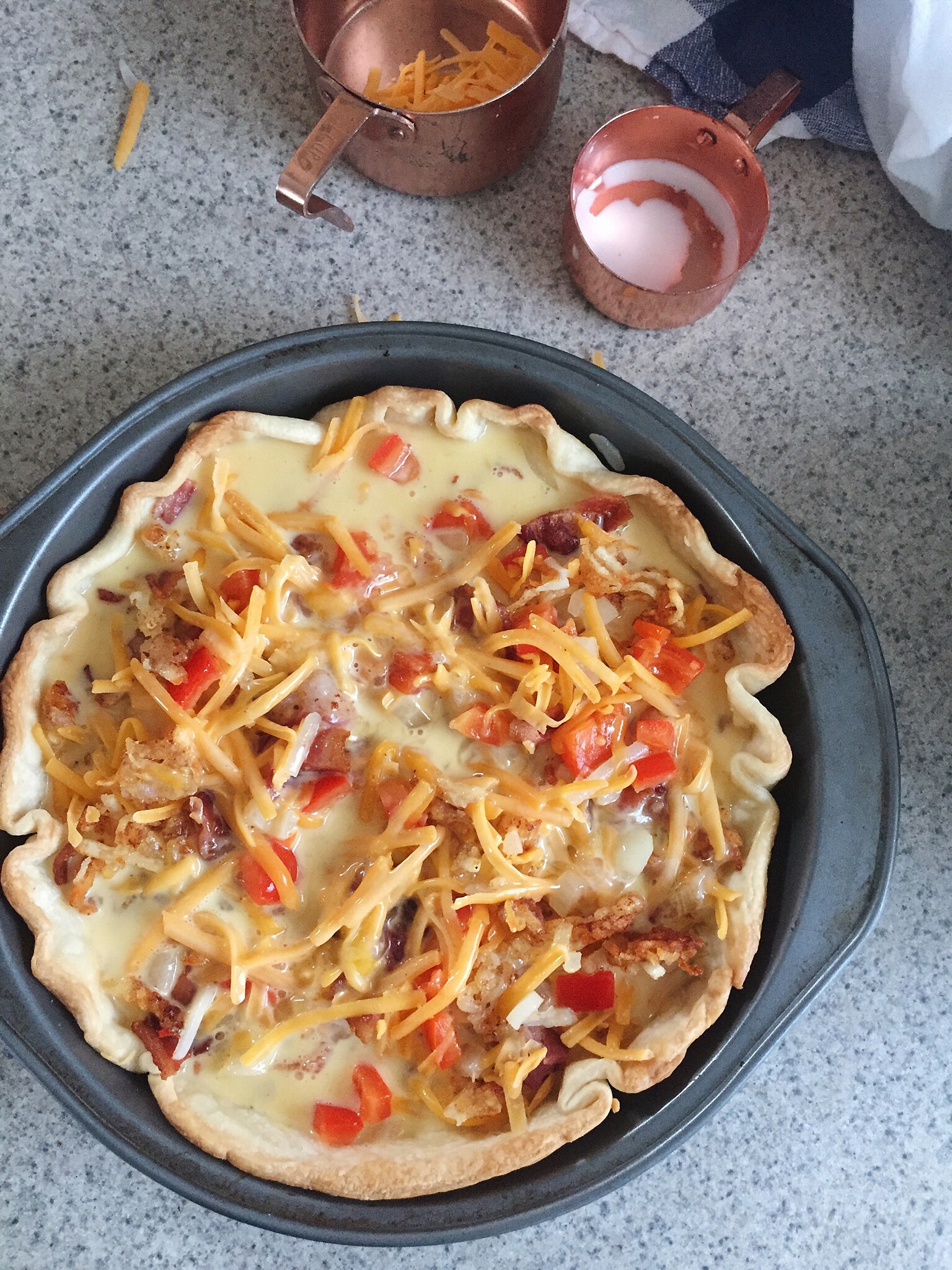 Bake at 375F for 40-45 minutes or until eggs are set. Once done, you can serve immediately, or cover, refrigerate and bake at 300F for about 15 minutes when you want to serve it.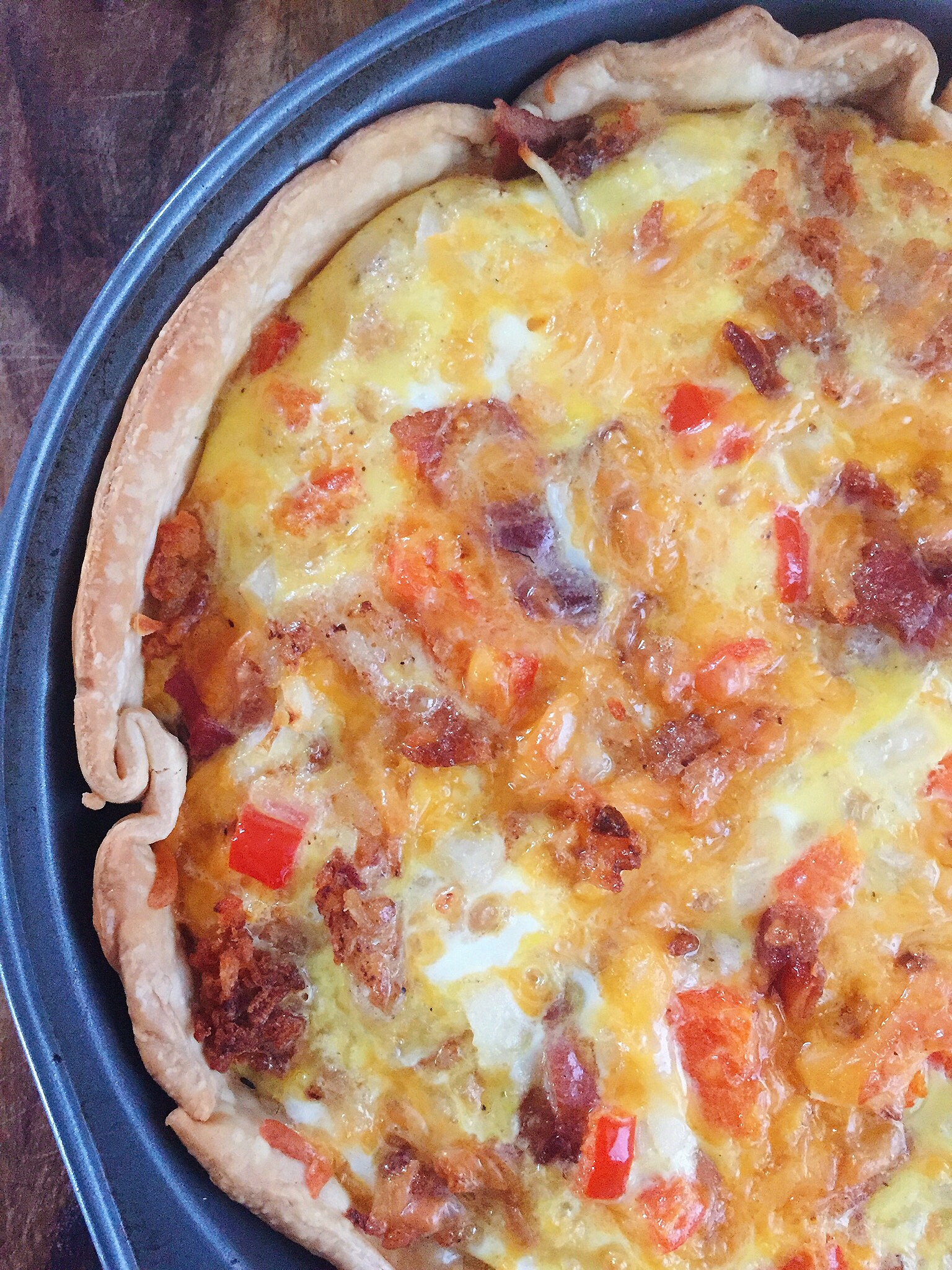 While eggs are baking make your cream cheese topping. Combine cream cheese and chives. Stir until completely incorporated. Reserve to dollop on top of warm slices of your breakfast bake when it comes out of the oven or if you are serving it another day: refrigerate until ready and pull out a little bit ahead of time to soften up.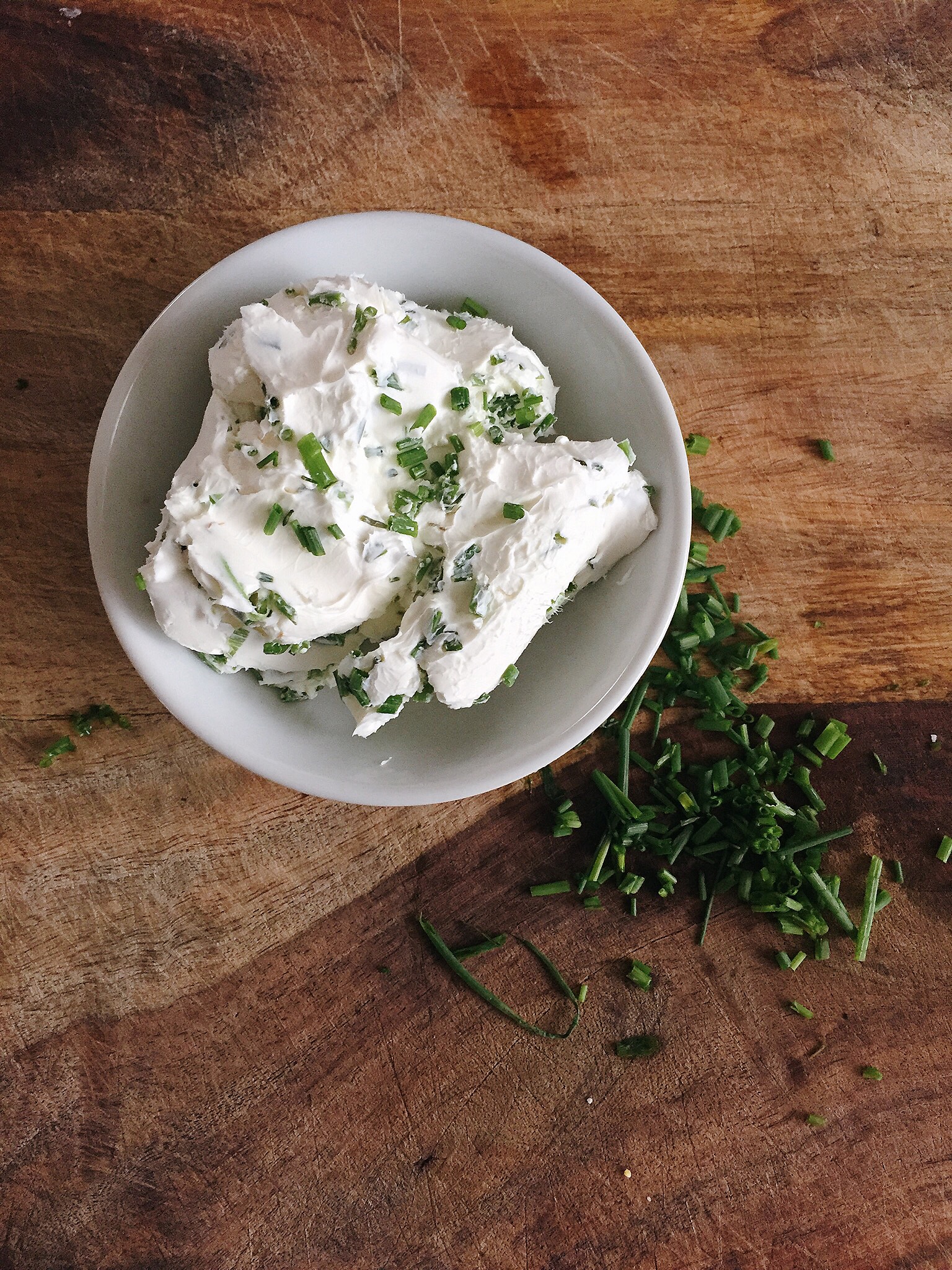 Slice wedges of breakfast bake and serve with a dollop of chive cream cheese, and maybe some hot sauce if you like it spicy! Enjoy and Merry Christmas!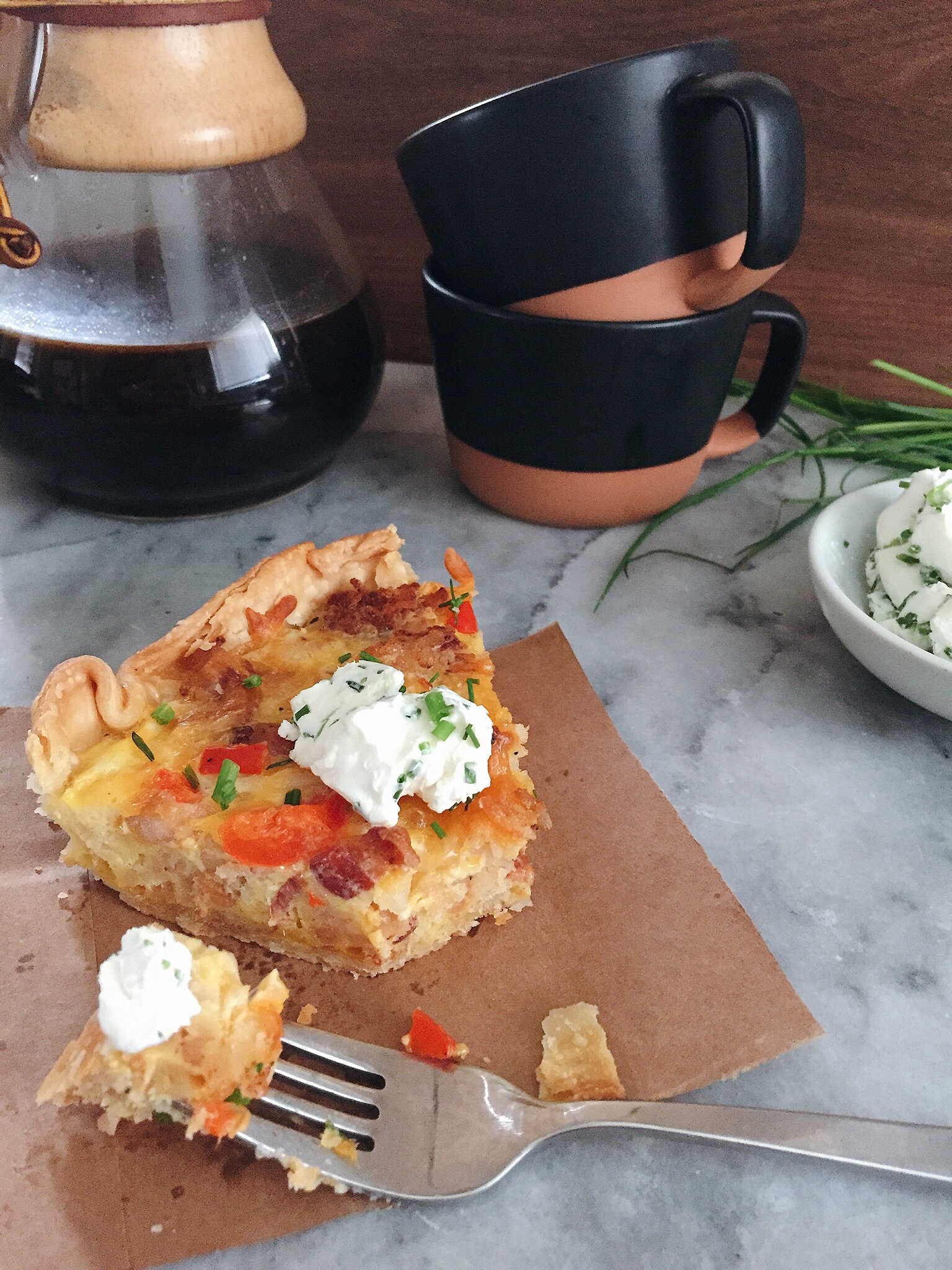 [yumprint-recipe id='28']